Did You Know?
The whole world is "going mobile"! Google reports that mobile search queries on its search engine have exploded by 500% in the past 5 years!  If your website cannot be easily viewed on a smartphone or tablet, then you will be losing customers.
I can help you with all your online needs, including responsive web design (mobile-friendly), branding, social media and hosting – all with the added bonus of outstanding customer service! What are you waiting for?   If you want to stand out to your customers, contact us now – I'd love to chat!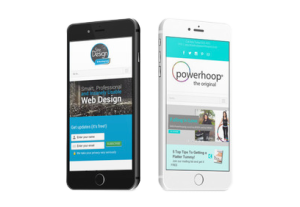 My Work
At Site Design & Hosting you won't just get website design, I can take care of your whole online and offline branding! This means I am your one stop business shop, from social media setup to print to logo design – I have your back.
Sites We Have Designed
Site Design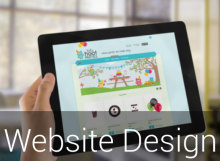 Print Ready Work
Site Design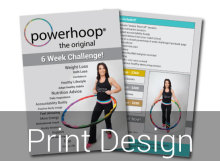 Logo Design
Site Design
Get a mobile friendly website today!
Super Easy to Use.
Video Training Provided.
Great service and easy payment plans to boot!
What are you waiting for?
What My Clients Say
Deb was awesome to work with, she totally knows her stuff. She knew exactly how to lead me through the Facebook ad process and give me the step by step training so that I could easily do it myself – and I'm not even that tech savvy!! I would highly recommend Deb to anyone who wants to get serious about their online business presence. The work she does is fabulous!
I met Deb a few weeks ago at an event and was immediately drawn to her warm personality. I asked her if she could revamp my website. I am not very technical at all, so I was a bit apprehensive. Deb held my hand throughout the whole process and she was nothing short of professional, friendly, accommodating and full of incredible ideas. She has given me a website which I am so proud of and know will help my business go from strength to strength. Nothing is too much trouble for her and she really puts her heart and soul into her work. Service is everything to me and she did not fail to deliver this in a way which was out of this world. If you are thinking about getting new website then look no further. She is just incredible and you will get incredible value for money. Thank you so much Deb for being fabulous at what you do and your passion for designing amazing websites is very real.
I would highly recommend Deb to make your website, the process was super efficient. I never had to wait long for a response, which was always helpful, friendly and never any trouble for asking questions which must be obvious to her. The process was really professional, yet lovely and friendly on a personal level at the same time. The screen casts Deb provides make the process so easy to understand and logical. (you end up feeling really clever after knowing nothing about this stuff previously.) It is a great way to learn your own e-commmerce website, her technique empowers you by giving you the tools to do it all for yourself. When there are problems Deb is always there to instruct you through them. It is a great service and I got what I wished for. Thank you Deb!
Deb at Site and Design Hosting created two gorgeous websites for me. I've had websites for about 10 years but this was by far the easiest and smoothest set up process I've ever experienced. Deb really understood what I needed, the style and design I was after. It all came together very swiftly and communication was very easy. The tutorial videos are just what I needed as loading images and understanding the back end of the website can be bamboozling. I'm thrilled with my new websites which will hopefully make things easier ultimately for my customers.. I couldn't recommend Site Design & Hosting more highly.
I contacted Deb after being given the run around with flyers, business cards and website design from a number of places on the Sunshine Coast (QLD) Bad quality cards and bad customer service was really starting to annoy me. A friend recommended I use Deb. I was apprehensive at first being in Australia, I was unsure how I could get everything done exactly as I wanted via email. It had taken me hours to design and print my business cards with a local company and this was in person! Deb instantly put my mind at ease, she was incredibly efficient, "got" what I wanted and designed me a beautiful website, facebook page and flyers all in the one package for a very reasonable price. Her customer service went above and beyond. I would not hesitate to recommend Deb to anyone for Website design or otherwise, she is fantastic!
There are no words to express my gratitude to Deb for all of her hard work, advice and support. Being a rather difficult client, Deb left me feeling important to her and not as just a number. I highly recommend that if anyone has any hosting, email or site issues to get in touch with Site Design & Hosting. Even if you just have a question – I cannot stress enough how much I appreciate all that I have now, thanks to Deb!
I asked Deb to redesign my Facebook page as I wanted to give it a fresh new look which would compliment my website and my product. I wanted something bright, fun and stylish. I am so impressed with the end result, and the speed in which the work was finished. I can't believe how good my new page looks, and I keep going back to look at it! My page looks so much more professional now. I can totally recommend Site Design & Hosting for their customer service, affordability and their great vision. Thank you
Site Design have the best customer service you could imagine!!! Debs is friendly, efficient and super helpful. They have revamped my website, created an awesome new logo, created my facebook banner and tabs, not to mention slashed my hosting fees by a huge amount every month!!I highly recommend their services. Thanks again Debs for every thing you do!
We've had the recent pleasure of using Deb at Site Design to design a new website and logo for our growing company. Deb is a pleasure to work with and very informative making the whole process easy and enjoyable. Understanding and operating the back end is very easy with informative videos to make even the novice operate it with ease. I would highly recommend Deb with her experience, talent and friendly informative manner for anyone wanting new websites and design. Thank you from the happy team at Soothfast Skincare Ltd.
Site Design has not only offered me and my business the best rate for hosting I could find, but they offer the best service! Deb is amazing and so knowledgeable, available even to answer the little questions that you are supposed to know! Deb has walked me through the putting together of a website from scratch and in some cases actually completed parts of the website! I cannot recommend this business highly enough – go kiwi and support local businesses with AMAZING follow up and service!
I highly recommend Site Design and Hosting. Deb created my website as well as Facebook cover photo and tabs. She was amazing – super fast, friendly, and extremely patient with all my questions. Very affordable too! I am very happy with the result – huge thanks Deb!!
Thank you Deb! Fast, efficient, friendly, and very knowledgeable. When I thought I was at breaking point trying to set up email – she very calmly sorted it for me. She has patiently explained and re explained and re explained things to a very computer illiterate person. I love the new site! Thank you!
Awesome, affordable service! Deb is knowledgeable and incredibly helpful. She helped me do a couple of touch ups on my site including setting up google analytics. Highly, highly recommend her services!
Thank you Deb for an awesome job helping me get my Fb page and Competition organized. Very impressed with your quick, thorough and professional work. Will definitely recommend you and utilize your services again!
Deb, I am totally stoked with my new website. The whole process was easy, seamless and efficient – as well as friendly. After all that, any expectations I had were well and truly blown out of the water. It was fun and stress free for me – something that was quite complicated you made it fun, easy and look awesome! True talent you have. Thank you!
SENZ Limited has been working with Deb Malone and Site Design exclusively for two years now. We are delighted with the high level of professionalism and quality of work that Site Design turns out for every project, and we look forward to working with Site Design for many years yet. I highly recommend Site Design to all individuals and companies that are looking for quality work at reasonable pricing.
THANK YOU SO MUCH Deb! for the patience, for answering ALL my question. EVERYTHING looks so complicated to me but your always there to help me .This is my second website and I LOVE IT!
Deb has helped me change my life! I absolutely love my website that she has created. The brief was maximum visual impact and super easy to navigate! BOTH were achieved easily! It is the support that she had given me leading up to the launch of the site that has blown me away. Deb explains step by step exactly what to do and teaches you how to understand the back end of the site. I can now feel confident adding new products and know where to go to amend and update information etc. As soon as my site launched I had a flurry of sales and all I needed to do was watch it all happen – thank you so much Deb, it has been awesome getting to know you. HIGHLY RECOMMENDED TO ANYONE NEEDING A WEBSITE. Don't feel overwhelmed because you don't know a thing about managing a website, Deb will show you!!
I am super dooper happy with Deb creating my new website, it is wicked, getting great feedback from customers and already sold more in 2 months than I did for a whole year with my old site. Dont waste time making your own, come see Deb 🙂
About Me
I'm Deb Malone – known for my heart of gold and rock solid smarts and I'm your 'how-to girl' for all things sales. I'm your virtual mentor and your sales funnel cheerleader.
With a passion for helping business owners overcome their tech woes, I'm gonna show you how to automate the whole client-getting process so you're not left in that state of overwhelm.
I'll show you how to whip up a landing page, compare Lead Pages to Click Funnels, or shake out a Facebook ads campaign that will target your ideal customers and convert into sales.
On top of all that awesomeness, I develop kickass professional websites –  and make sure they look great on any mobile device! Your website won't just sit there and look pretty, but will be designed to give you a return on investment (ROI).
I'm based 'down under' in New Zealand – the gorgeous little Havelock North to be exact – however, we also provide our services worldwide. With easy payment options, including upfront or 3, 6 or 12 month payment plans, every business can now afford a professionally designed website – with fast turn-around and superb quality!
I have a team of designers working with me to ensure your work is done efficiently, along with that fantastic customer service we are so well known for!
The best thing about me? My service doesn't just stop once you have your website – with complimentary training, I ensure that you know how to run it…. confidently!
Site Design & Hosting – the best after sales service you will find!
I totally need a kick-ass website!
I would love a professional website that will convert visitors into customers...
YES, PLEASE!